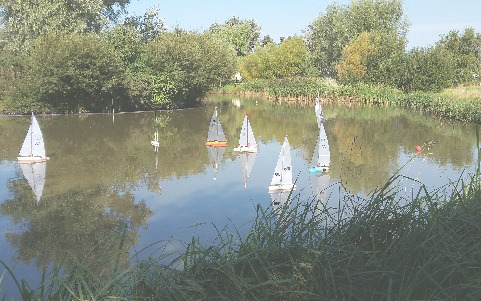 There seemed to be a shortage of Scamps but it was still an entertaining session, In the first race Chris's boat was leading for the initial lap then it performed an impressive jump over the barrier, Chris then calmly applied maximum power and jumped it back into the pond, and carried on with the race, surprisingly there was no damage but he lost the lead to Simon.
Chris did well in the second race taking the lead again but Simon managed to sneak past him on one of the legs to win.
Results for every race were the same Simon 1st Chris 2nd Richard 3rd and Colin D 4th
The Victoria racing was a battle with northerly winds, gusts were regularly coming through to test the 9 skippers over 5 races.
Linda was leading a race but then decided to copy Chris, during a big gust her yacht tried to jump onto the island as well! now we know why her boat is called Tigger, by the time she had it back under control she had lost the lead to Simon.
Simon had an excellent set of results with 5 1st places to win overall.
Linda did well with 4 second places and a retirement (due to a broken outhaul) to come 2nd
Colin L was 3rd with some consistent good results
Peter could not get into the groove but with 2 retirements still came 4th
Ian finished all the races coming 5th
Richard having problems with a jib sheet came 6th
Paul finished all races coming 7th with a bit of help from Linda and a fishing rod.
Phil managed one race but retired with servo problems
Chris damaged his boat before the first race!
George turned up with no boats, he wanted some points for this as it was so cold!
Colin Dean was also minus a Victoria. (due to a lengthy refit!)
Sunday 4th March
Scamp racing
we finally have a faster boat in the shape of Chris's super hot machine.
Chris won the day with 4 1st places but in the 5th race, the little motor had had enough and un-soldered it's wires!
If anyone has a fire boat then please bring it to the next race.
Simon was 2nd Ken was 3rd, which was a good effort considering there was a hole in the side of his boat.
The racing was quite close, George's scamp was fast but Paul told me "It was not fully under control"
John was 4th, George 5th (both on 16pts but Johns 2nd place breaks the tie)
Victoria racing
10 skippers were greeted with a very light SE wind, sailors had to be patient and sail unusual courses to keep in the wind.
Paul had some good starts and sailed well to get 3 1sts and a win for the day.
Other race winners were Michael, Peter and Simon.
Simon was 2nd overall, Peter 3rd and Michael 4th
Colin Lambert had a 2nd and 3rd place, George and Ken each led races for a while but couldn't take the pressure, but both achieved 4th place finishes,
Colin was 5th, Ken 6th and George 7th overall
Ian had one good race, coming 8th overall
Phil also had a 4th place, but I think he retired with a problem half way.
Chris had jib-sheet problems, went to get a spare yacht but this one had its rigging on one side dangling, has he got mice in the garage?
Some of the Scamp electric racing boats having a breather.